Activating Citizens for Stronger Communities
Written by Valley of the Sun United Way
Published on Sep 21, 2020
The 2020 election year is now in full swing. National Voter Registration Day is the perfect opportunity to get involved, no matter what party you support or which issues matter most to you.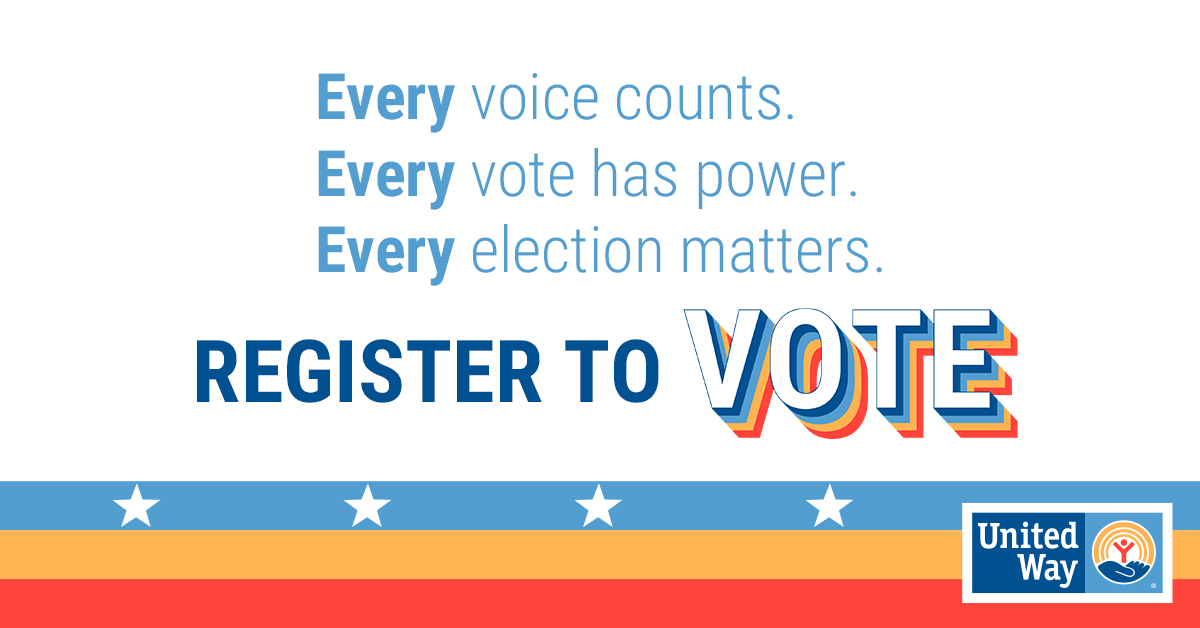 United Way fights for the health, education and financial stability of every person in every community. For over 130 years, United Way has brought together leaders in communities to solve problems in a non-partisan manner. Civic engagement is at the heart of what United Way does.
Today, our role is even more critical than ever. Engaging people in creating community-driven solutions and elevating community voice is fundamental to solving our nation's most challenging and intractable community problems. We recognize that helping people become active, engaged and empowered members of their communities is critical to creating strong, healthy, equitable and resilient communities.
We are activating our vast network to vote and be champions for their communities. We are well-positioned to do voter registration work because we are already working with the communities most in need through the direct services we provide. Civic engagement is not only a critical vehicle for creating active citizens and stronger communities, but it can also help nonprofits build more sustainable and resilient organizations.
Why we remain nonpartisan:
Nonpartisanship respects the diversity of political opinions among our staff, volunteers and the people we serve.
It strengthens our ability to advocate across partisan lines and have access to diverse community leaders and funding sources.
It makes us trusted messengers who can engage underserved populations that campaigns and candidates often miss. Our nonpartisan approach is one reason nonprofits have proven effective at reaching youth, new citizens, and new voters, and increasing voting rates across all demographics.

The election is close. We know you are busy, but here's how you can help activate your voice:
Visit Nonprofit VOTE's official 50 State Guide to Voting in Your State to review registration guidelines, download forms or access online voter registration or registration look up tools.
Visit this nonpartisan voter guide vote411.org. Provides up-to-date information on polling locations and local ballots. Just enter location information and see everything relevant to that election.
Google "What's on (my state) ballot?" or visit canivote.org to look up your voting information and sample ballot.
Check election timelines, become a poll worker, and view trusted information at Arizona.vote.
Call 2-1-1 to speak with operators who have information about voting deadlines, polling place locations, and other information. You may also visit 211arizona.org.
Take the pledge to vote with The Ballot Ready tool. Create personalized, interactive ballots based on voting location to inform residents of the issues and candidates they'll be voting on.
Make your voice heard by activating interest in friends, family and colleagues by using The Voting Information tool. This mobile-responsive tool can be easily customized to an brand and embedded on any website.

Stay politically engaged in your community! Voting is our collective opportunity to express ourselves as a community, as voters and as Americans.