Mental Health Support: The Go-To (Human) Resource in Maricopa County
Written by Valley of the Sun United Way
Published on May 7, 2021
May is Mental Health Awareness Month, and there's no better time to spotlight the topic, its challenges and the resources available to our community members.
In addition to the financial, emotional and social issues raised by the pandemic, mental health became a developing challenge over the past year. At Valley of the Sun United Way, we're passionate about our community's health and wellbeing. That's why health, including mental health, became a key area of MC2026, our five-year plan for Mighty Change in Maricopa County. According to the Centers for Disease Control, one in five adults experience a mental illness each year. Being aware of the resources available to our community is essential to the health and well-being of those suffering in silence.
Navigating the mental health system can be confusing and overwhelming. During Mental Health Awareness Month, we applaud organizations like Copa Health and their passionate team of professionals dedicated to serving individuals living with a mental illness. Copa Health provides resources and services to individuals with developmental, intellectual and behavioral health challenges concentrating on those with complex care needs. As a local nonprofit organization, they provide a variety of services, including counseling services, community living services and a free referral service available to all.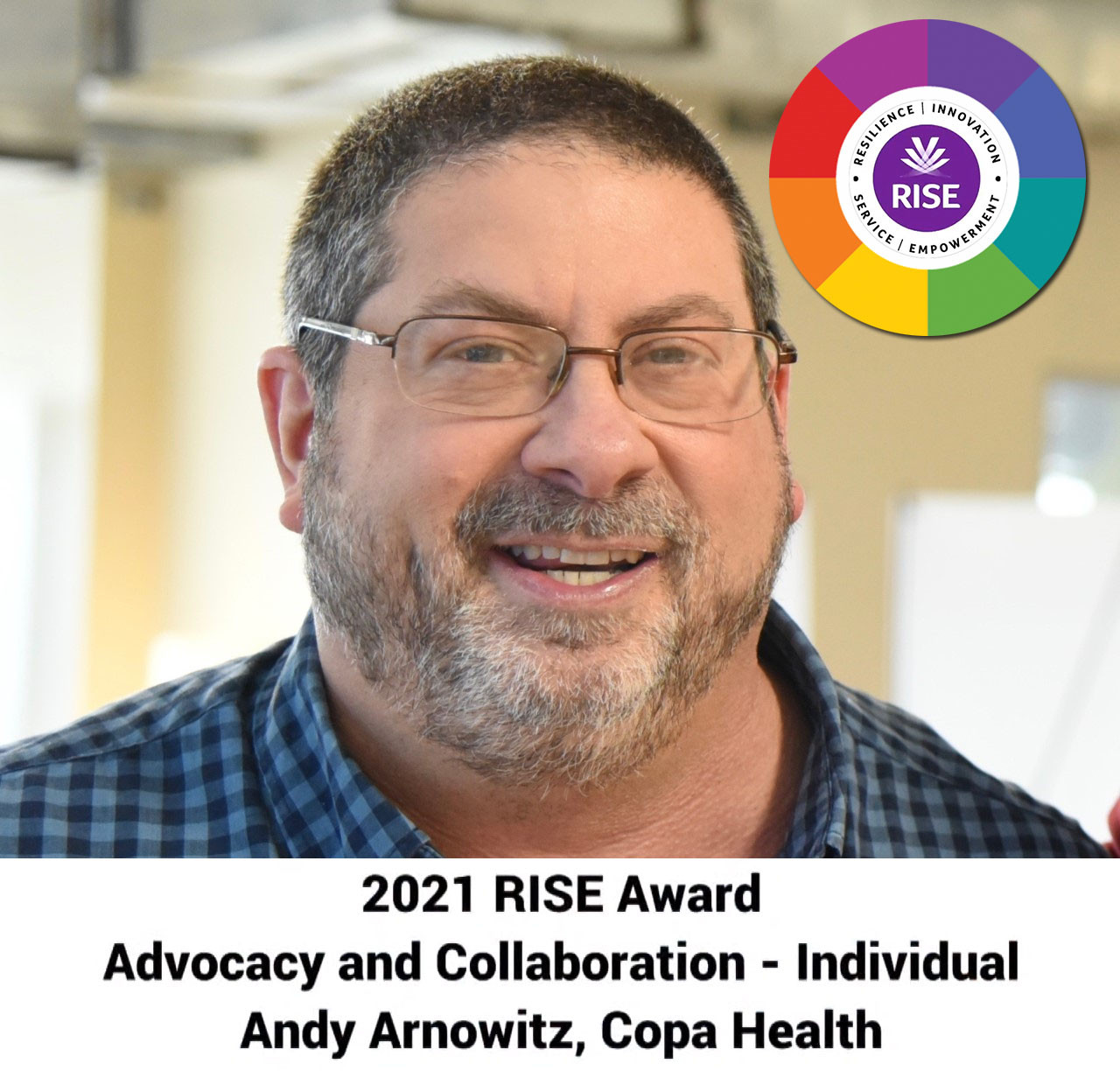 Andy Arnowitz is an essential part of the Copa Health team. For nearly two decades, he has served our community as an Information and Resources Coordinator, responding to calls from individuals who need assistance navigating what can often be an intimidating journey. Andy's knowledge and understanding of the mental health community is unlike any other, as he lives with a mental illness himself. As a peer who lives with bipolar disorder, he is sympathetic and empathetic to others experiencing a mental illness.
Andy's direct phone number is available on numerous resource sites online, including Copa Health, NAMI (National Alliance on Mental Illness) Arizona and Mental Health Arizona. When asked why his information is widely available, he replied, "I'm here for the public." Andy is on and off the phone assisting individuals and families throughout the day. In the case that he doesn't answer your call right away, please leave a voicemail. Andy always returns those calls.
Jim Dunn, executive director and CEO of NAMI Arizona, said Andy has been an incredible resource for his organization.
"Andy has been my go-to guy since 2005. I truly respect him for his dedication and determination to serve," Dunn said.
That's exactly who Andy is. A caring, dedicated and passionate professional who serves those in need, including individuals, families, healthcare professionals and more.
While there are numerous resources and organizations serving individuals living with a mental illness, it's comforting to know that there's someone out there who is able to guide and find the resources that best match an individual's unique situation. Families of individuals living with a mental illness are also encouraged to call Andy when seeking help for their loved ones. Whether it's an individual's first or 10th time contacting Andy, he is committed to solving the problem or pointing them in the right direction.
"Copa Health is so fortunate to have Andy, the Advocacy and Collaboration 2021 RISE Award recipient, as an integral part of our team. Andy's passion, knowledge and perseverance epitomize the Copa Way and benefits so many seeking services," said Dr. Shar Najafi-Piper, CEO of Copa Health
Copa Health believes in a people-first approach. Their unwavering passion to serve individuals, families and communities is what Maricopa County needs to create Mighty Change. We applaud Copa Health, Andy Arnowitz and the rest of the team at this organization as they work toward creating long-term solutions for our most vulnerable neighbors.
To learn more about Copa Health, the resources they offer and to find a location near you, visit www.copahealth.org.
If you or someone you know is living with a mental illness and needs assistance, please call Andy Arnowitz at 480-994-4407 (Monday – Friday, 9 am-4 pm).
Andy can provide information and resources for:
Mental Health Support Groups
Crisis Lines
Petitioning (involuntary Commitment)
Therapists
Seriously Mentally Ill (SMI)
AHCCCS (Medicaid)
Social Security (SSD & SSI)
Mental Health Power of Attorney
Mercy Care
Prescription Assistance
Mental Health Lawyers
Food Boxes
Psychiatric Hospitals
And much more!